Excellence in Education: MLK Freedom Breakfast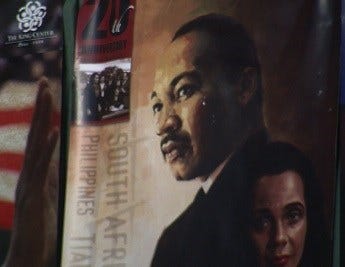 Posted By: Channel 8 Eyewitness News
8@klkntv.com
For more than two decades, members of the Lincoln community have met to honor the life and mission of Martin Luther King Jr. Friday morning, they met again for the annual MLK Freedom Breakfast.
More than 800 people began their morning with a shared meal and words of empowerment.

"Each of us can carry Dr. King's legacy forward by being engaged, involved citizens," said UNL President, Hank Bounds.

"It's an amazing experience here to be a part of this breakfast in honor of MLK, and the dream and the passion that he had continues in places like Lincoln, Nebraska," says attendee Deneil Clarke.

Local educators took the podium to emphasize the need for high academic and character standards in Lincoln.

"Martin Luther King had a dream of helping everyone to see each other as equals. And that begins with education," says Clarke.

The breakfast serves as a fundraiser for local students. Each year, one-thousand dollar scholarships are presented to six high school seniors. It helps carry out their dream of going to college.

Attendees say the values expressed at the breakfast, help strengthen local schools and the community year-round.

"What a lot of us get out of it is the sense of community that exists here in Lincoln…All of these things that matter in holding us together as a people, we are reminded of each year at this particular breakfast," Lincoln Mayor Chris Beutler.