Excellence in Education: Southwest student finalist in national contest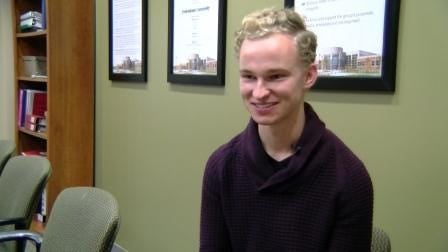 Posted By: Megan Conway
mconway@klkntv.com
Windstream's Smart Tomorrow national contest has a finalist right here in the capitol city and he needs your help to win it all!
"I had my phone and I saw the email. I was walking inside and I just stopped. I read it and I couldn't believe it. It was the most exciting thing. It was definitely an amazing feeling to know that they liked my idea and they thought it was good enough to compete nationally," says Carter Knopik, senior at Southwest High School.
Students had to design and pitch an idea for a start–up business. Carter is one of three finalists from across the country and the winner will be decided by the public voting on a short video about the idea. His creation is an app called 'Thought Bubble.'
"It allows you to upload sound, pictures, videos and text in all sorts of different file mediums, and collaborate in real time on them to generate new ideas and to work with a group of collaborators," says Carter.
"Windstream just really appreciates the opportunity to support these incredible students, like Carter, pursuing their dreams and their opportunities for making this a better place for all of us," says Brad Hedrick, Vice President of Windstream Operations.
Fun fact, this is the second year for the contest and last year, a group of students at Pius X won. You can vote for Carter once a day through January 25th. Just click this link to vote.