Excellence in Education: Students saving lives in spare time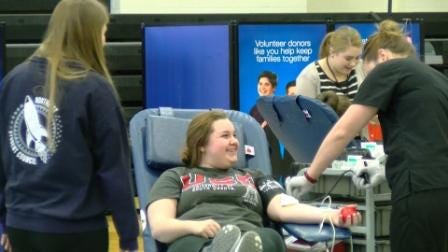 Posted By: Megan Conway
mconway@klkntv.com
Students at Northeast High School are saving lives in their spare time. The Student Council holds blood drives a few times a year.
"We've always done it ever since I've been here. It's just kind of a yearly thing that we do, but it means a lot to me because I had cancer. I actually had blood transfusions, so this is an awesome thing to do," says Emma Davis, Student Council President.
Students, teachers and even the public are welcome at the event. The Student Council partners with the Nebraska Blood Bank. They try to hold 3 or 4 each year to help make a difference. For Chloe Bugay, this was her first time donating and she says she plans to give more blood in the future.
"I was kind of excited. I came in and I sat down, and I didn't really know what to expect. I didn't know the needle was going to be that big, but it wasn't that bad, just a little pinch. It was pretty cool just to know that I get to save people just by coming in here and donating some of my blood," says Bugay, a junior at Northeast.
This time, the school raised 41 units. The next blood drive is April 11th, you can reserve a time or walk-ins are welcome.