Excellence in Education: Tour UNL's Pollinator Gardens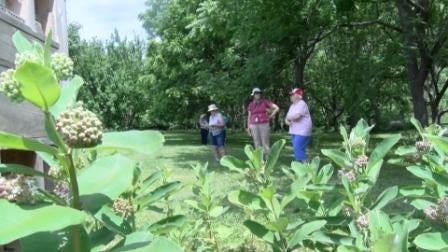 Some locals got a special tour of UNL's gardens Tuesday.
"There's a larval bed for monarchs and swallowtails, pollinator plot, pollinator prairie," says Emily Levine, Pollinator Gardens.
About a dozen people showed up to learn more about UNL's Pollinator Gardens.
Those are gardens where native bees, butterflies, wasps, and other insects thrive.
The tour is meant to encourage people to plant their own gardens and keep the ecosystem alive.
"Everyone loves pollinators, and it's a good thing people are getting more interested. With all the crop land we've had, we've lost almost all of our native grasslands, so our native pollinators don't have much to eat anymore," says Levine.
The Pollinator Gardens have been around for a few years now.
Tours like this happen on the first Tuesday of every month, from 12 p.m. to 1 p.m. at UNL's East Campus.
They're open to the public.