Excellence in Education: UNL Art students recreate Van Gogh painting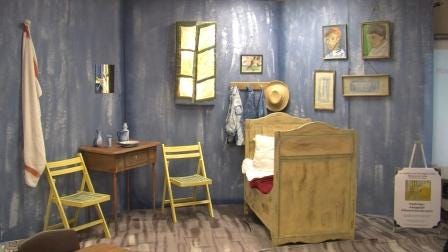 Posted By: Megan Conway
mconway@klkntv.com
Two UNL Art students are making an impact with a unique display they made. They recreated Van Gogh's painting "The Bedroom" into a life size installation.
"Last year, I had the idea of making a bunch of interactive installations for people to just kind of like lounge and sit in because our school doesn't really have a lounge right now. It's just a bunch of chairs around the building," says Haley Heesacker, student artist.
"Being able to experience art by being in it is way different than looking at it on a slideshow or in a book or even making your own replication after seeing it flat. There's just a difference between being flat and surrounding you," says Tamara Kaye, ArtReach Project Director.
The students say the display took about a week to make. They choose Van Gogh because of their interest in him and his popularity. The ArtReach Project is helping the display tour local schools, inspiring students and bringing a one-of-a-kind experience right to their classroom.
"The kids, instead of just looking at a painting and being familiar with the painting, they get to go in to that actual space and maybe even imagine what it was like for the artist themselves to be in here. My hope is that it just kind of sparks their own imagination," says Kaye.
"I think we're both like visual learners and when we see things that we like, we want to go and touch it and interact with it. That was kind of the whole idea behind this thing was making art that not just you look at, but that you can go and interact with it, change it, move it and use it," says Michael Johnson, student artist.
The display stays at each school for about a month and has been to three so far. Next Tuesday, we'll feature some students at West Lincoln Elementary, who are gaining inspiration from the installation.