BOSTON UPATE: 3 dead, 170+ injured from explosives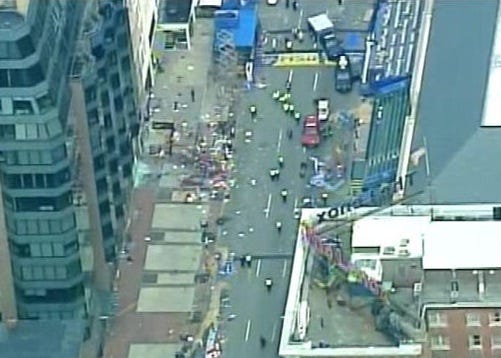 Posted By: KLKN Newsroom
8@klkntv.com
Doctors caring for the 170-plus victims of the deadly Boston Marathon bombing Monday said today they have been pulling nails or nail-like objects from those struck by the twin explosions.
"Nails or sharp objects," Dr. George Velmahos, chief of trauma at Massachusetts General Hospital, said at a press conference today. "Can't say for certainty, but that's what they look like. [They're] numerous… 10, 20, 30, 40 in their bodies, maybe more."
A spokesperson for Brigham and Women's Hospital, another medical center caring for the wounded, reported similar injuries, apparently caused by carpenter nails and small ball bearings.
Velmahos said he believes that shrapnel specifically came from the bomb itself, which, based on the number of lower extremity injuries, was likely planted low to the ground. Others were hurt by environmental shrapnel — objects close to the blast — and still more were injured just by the blast of air that slammed them against walls.
Three people including an 8-year-old boy were killed and more than 170 others were injured, 17 of them critically, in a pair of explosions near the finish line of the Boston Marathon Monday afternoon.
And though the injuries suffered by dozens are gruesome, the details could provide much needed clues about the make-up of the bomb – a high priority for investigators who have yet to identify a suspect.
This morning, President Obama said the explosions are being investigated as an act of terror, although authorities still don't know who is responsible. He called the bombing "a heinous and cowardly act'' used to target innocent civilians. Obama spoke to reporters at the White House after a briefing by his national security team.
Source: ABC News