UPDATE: Extra Law Enforcement Out This Weekend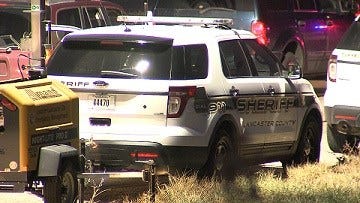 Posted By: Reid Kilmer
rkilmer@klkntv.com
In a press release issued by the Lancaster County Sheriff's Office, Wednesday night's "Click it or Ticket" campaign resulted in one arrest on an outstanding warrant, two criminal arrests, 25 official traffic citations, and 83 warning/defect cards issued.
Of those criminal arrests, one was a result of possession of marijuana less than one ounce and the other for possession of drug paraphernalia.
Official traffic citations included one DUI, one driving with a suspended license, four speeding, eight invalid driver's licenses, seven registration and insurance violations and four other violations.
The campaign lasted from 3:00 p.m. to 1:00 a.m. and 459 vehicles total were checked.
---
Wednesday night many drivers found themselves face to face with Lancaster County deputies.
Every fourth driver was pulled over to be reminded to buckle up and slow down. As part of a grant funded safe driving initiative, the "Click It or Ticket" campaign gives law enforcement extra money to put more staff on the streets.
Chief Deputy Jeff Bliemeister said, "We thank them if they're wearing their seat belts and being properly restrained and so almost all of the encounters have been positive to this point. We explain to them why we're doing this, trying to keep the highways just a little bit safer."
Several members of "Mothers Against Drunk Driving" were on hand to help out. One of them was Kim Milana, who says she lost her son and his girlfriend when they were in a car accident with a drunk driver. She says people need to think about who will get behind the wheel if drinking has been going on.
Milana said, "I want to remind everyone to make a plan because this time of year when you all are sitting around the table the holidays and reminiscing and good times and stuff it's hard on us who've lost loved ones to do that without that person being there."
Sheriff Terry Wagner says additional patrol units will be on the roads for the rest of the weekend.
Sheriff Wagner said, "Especially now being the most heavily traveled holiday of the year, it's really important for us to show our presence and let people know we're out there."
The Lancaster County Sheriff's Office says this is simply a reminder to buckle up, drive the speed limit and watch out for weather conditions.
The Nebraska State Patrol also said they will have additional troopers on the streets this weekend.