Fallen veterans honored with wreath ceremony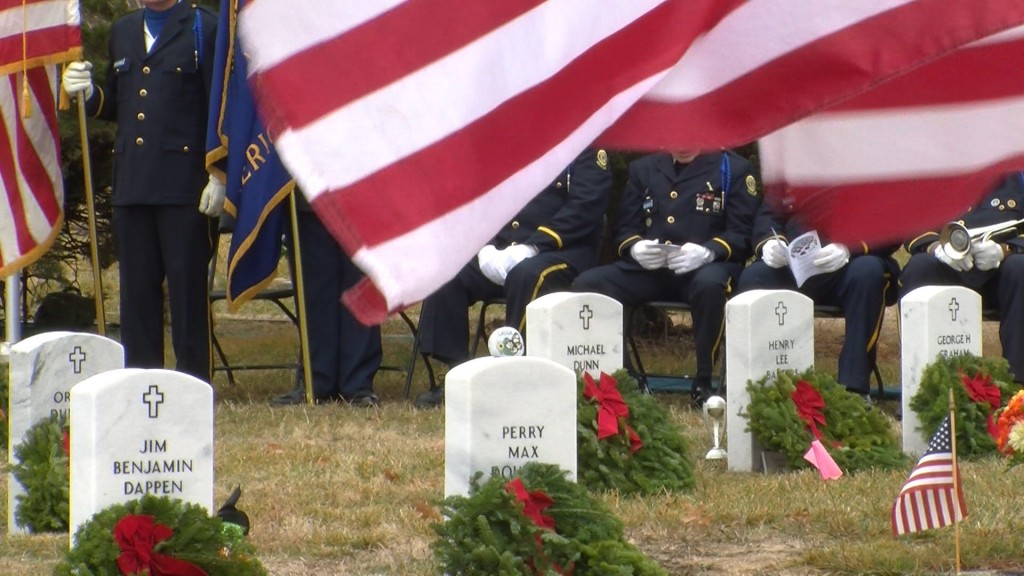 By: Kayla Bremer
kbremer@klkntv.com
Many gathered at a local cemetery Saturday to honor veterans during the holiday season.
Servicemen and women, veterans and families of those who've died serving the country came to Wyuka Cemetery to honor them for the annual Wreaths Across America Day.
It's the third year the event has been held in Lincoln where wreaths are presented in memory of veterans from each branch of the military.
"This is an event that's basically gone worldwide and here in the United States there's been over 700 locations today that has honored veterans by placing wreaths on the graves," Vietnam veteran Ralph Bierman said.
Over 400 thousand wreaths were placed on graves nationwide. Volunteers do this every year with a mission to honor, remember and teach.
This year's presenter of the Missing In Action and Prisoner Of War wreath was Linda Ingram of Lincoln.
Her brother Harold was in the Air Force during Vietnam when his plane went down in 1969. She says the U.S. Government has searched the area twice, but he's never been located.
"To date we still classify him, the family does, as missing in action," Linda Ingram said. "We will probably always do that. And we're still waiting like so many other American families who have missing for an answer."
Serving the country has ran in her family for generations, like it does in so many. Many of the people who attended the ceremony came to pay tribute and remember their loved ones during the holiday season.
"Service has always been part of our family and I think it probably will continue to be," Ingram said. "And so as far as I consider, all Americans should thank some serviceman everyday."
Wreaths were placed in all 50 states today and at 24 national cemeteries on foreign soil.