UPDATE: Snatched dog is returned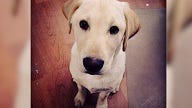 By: Jenn Hatcher
jhatcher@klkntv.com
UPDATED INFO: Zeke, the 4-month-old lab, has been returned to his family! He had been dropped off at a business in Omaha. A viewer made the connection and helped get the dog back. The family is very happy.
—————————————————————————————-
A young dog is snatched from his owner's property.
They thought, Zeke, had runaway but surveillance video shows some heartbreaking news.
Tuesday night, the 4– month– old lab was let out to go potty and never returned to the door.
Zeke's owners own Eagle Nest Self Storage off 37th and Adams St.
Zeke made his way to the front of their three acre property.
While standing in front of the business someone pulled into the parking lot, coaxed the pup to the car and put him in.
"We live here, it's a business, you know the dog was well taken care of so you know it's got to be somebody's pet," says Donna Reis, Zeke's owner.
The family called police, posted an ad in the paper and checked area animal shelters but no one turned Zeke in.
The video did not pick up a license plate number.
The car looks to be a two door black BMW, the driver, a gentleman with brown hair and a red t-shirt.
Anyone with information on Zeke's whereabouts can call Kayla at 480-2057.
Kayla says, "We would be ecstatic if somebody brought him home and now that we know that somebody has him, we're just hoping that they'll be a Good Samaritan and say I just wanted to keep him safe and bring him back."