Family mystery solved with grave site discovery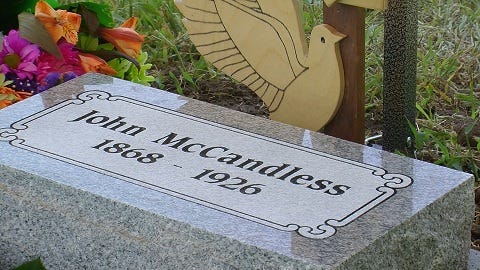 By: Ashley Harding
aharding@klkntv.com
A family mystery solved! More than 80 years after his death, a man long forgotten gets his name back. John McCandless was born in Illinois, but when he died in the 1920's, no one knew where he was buried. Last year, his great-grandson found out he was buried at the Lincoln Regional Center, in an unmarked grave. It was a family mystery for decades.
Earlier this week, his great-grandson made the trip from Utah to bring him a gravestone. It was placed there Thursday and Friday, dozens gathered to remember his life. A solemn prayer and a blessing for John McCandless, a man no one, not even his family, knew was buried at the Lincoln Regional Center. A fact that would've stayed a mystery, until last year, when his great-grandson searched for his death certificate.
"I'll never forget opening that envelope and finding that he had, in fact, lived much longer and he had, in fact, died here," Great-grandson Scott Patterson.
John was being treated for alcoholism when he died at the center in 1926. Like the hundreds of other souls buried here, John was placed in an unmarked grave. He is now one of ten to have a grave marker. Officials with the center hope to see that number grow.
"It really takes the family to want to be able to do that. And it's just a nice gesture and we want to make it special for them," Stacey Werth-Sweeney with the Lincoln Regional Center said.
For John's family, the word 'special' doesn't even come close. For them, it's about honoring their loved one, and finally, being able to move on.
"It's here. His name is there. Anyone who walks through this way, and then of course, I'm going to put it out there on the internet so anyone who happens to wonder what happened to him, there will be a picture of where he is," Patterson said.
Scott Patterson says he's still looking for a picture of John, and when he finds one that'll be the final piece of the puzzle.