Fans can pay tribute to Tom Osborne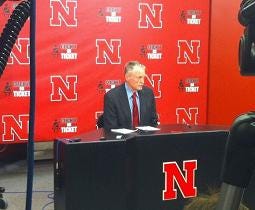 The following is a news release from the University of Nebraska.
With the impending end of an outstanding career as coach and administrator at the University of Nebraska, several events have been planned as a tribute to Tom Osborne, who will retire from his current position as Athletic Director on Jan. 1, 2013. Osborne's five-year stint as a successful administrator follows a stellar career as Nebraska's head football coach when his teams won 255 games, 13 conference championships and three national titles in 25 years. Saturday's final home game against Minnesota, which kicks off at 2:42 p.m., will be Tom Osborne's 500th in his career.
At Saturday's game, fans in attendance will have an opportunity to pay tribute to Osborne during pregame and halftime festivities. Fans are encouraged to be in their seats a half hour prior to the game in order to enjoy all pregame activities, including Senior Day introductions at 2:15 p.m. and a special UNL Cornhusker Band performance before the Tunnel Walk. Fans in attendance will have an opportunity to salute the Osborne family at halftime and to view a special video tribute to Tom.
A gala fund-raiser with proceeds going toward the East Memorial Stadium Research Center and the TeamMates Mentoring Program, which Tom Osborne and his wife Nancy founded in 1991, will take place in Omaha sometime after the first of the year. More information on this event will be forthcoming soon.
Current and former athletic staff, coaches and student-athletes will gather in Lincoln for an invitation-only Tribute to Tom the night before the annual spring game on Friday, April 5, 2013. The date of the spring game has moved up one week this year and will take place in Memorial Stadium on April 6, 2013.
Fans seeking an opportunity to write a thank you note to Osborne or tell a favorite Osborne story can do so beginning this weekend through a specially created website thankstomosborne.com. Fans can participate by using the hashtag #ThanksTO on their tweets or Instagram messages or by commenting on Facebook. Fans are also encouraged to send stories and best wishes via email to

thankstom@Huskers.com

(requires first and last name and address). Athletics will post some of the stories obtained from email, Facebook, Twitter and Instagram on the website giving fans a chance to share their thanks for Coach Osborne's service to Nebraska Athletics with all of Husker Nation. The website, ThanksTomOsborne.com is also accessible via Huskers.com.
Shawn Eichorst will begin his tenure as Nebraska's Athletic Director beginning on Jan. 1, 2013 and Osborne will continue with the athletic department as Athletic Director Emeritus until July 31, 2013.
Fans are encouraged to be in their seats by 2 p.m. on Saturday for Senior Introductions and MORE!