Farmer's Market wants to expand further down Canopy Street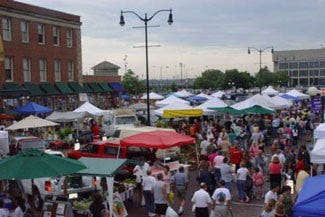 Lincoln's Historic Haymarket has been home to the Farmer's Market for years.
But for the past five, Haymarket Development officials say
it's been a little cramped, so they're asking the City Council to let them
expand, and they don't expect too much debate.
"I think it's one of the largest in the region, in this
part of the United States,
and so we want to accommodate that. And with all the new progress here in the Haymarket, it's just an opportunity to welcome visitors," says Jon Camp of the Lincoln City Council.
If approved, the mMarket will occupy its usual space in the Historic Haymarket, as well as Q street between 7th and Canopy streets, and
underneath the new canopy from P to Q streets.
With about 160 vendors, officials say that the Farmer's Market is busting at the seams, and that this expansion would help alleviate that.
Area businesses are generally on board, saying the
expansion will serve everyone's interests.
Karen Shinn, Owner of Bread & Cup say, "We try to source things locally as much as possible, and the way that we found the places to source the things that we have at Bread & Cup has largely been through the Farmer's Market."
Since the expansion would close off a portion of Canopy
street, what about parking?
"There will be opportunities for parking, it's the
proximity to the vendors that may be a bigger issue," says Jonathan Camp of the Lincoln Haymarket Development.
There are 1600 new spaces on the way, they'll be ready
come July or August.
Development officials say they're glad to be expanding the Farmers Market towards the Arena.. but say keeping it unique to the Historic Haymarket is essential.
The City Council will vote on the expansion Monday.
Haymarket Development officials say even with this expansion, there's still a
waiting list for vendors.
The Farmer's Market opens Saturday, May 3rd.