Farmer's market season officially open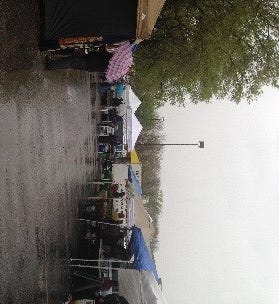 Posted By: Camila Orti
corti@klkntv.com
The rain didn't stop the 9th annual Old Cheney Road Farmer's Market from kicking off the market season in Nebraska.
The Old Cheney market, located in the strip mall parking lot near 56th and Old Cheney, is the first farmer's market to open this year. Organizers say about 40 vendors set up despite the rainy morning, and at least 300 people shopped throughout the day. There are normally closer to 60 farmers and more than 2,000 customers.
"We've got our customers that love fresh food, that love this market that come out anyway and we're here for them," Manager Megan Jackson said. Jackson says the Old Cheney market is exclusively food and agricultural products only.
For those who frequent farmer's markets, it's all about the fresh, locally-grown food.
"I've been waiting for the farmer's market for awhile now to start up, I love all the fresh produce," Rita Skoda of Lincoln said.
"You know the people that are creating your food and you know what they're putting into it and how they do it," Nancy Forst Williamson said.
Some vendors say the slower traffic was nothing to be concerned about.
"You have a market like this three, four times a year," Nebraska farmer Leon Page said.
Page has been selling his fruits and vegetables at the Old Cheney market for the last several years, and has seen much worse.
"I was at the Haymarket one time with five inches of snow," Page said.
The Old Cheney Road Farmer's Market is open every Sunday through October from 10 a.m. to 2 p.m. The Haymarket Farmer's Market kicks off this Saturday from 8 a.m. to noon.