Survivor of fatal boating accident speaks out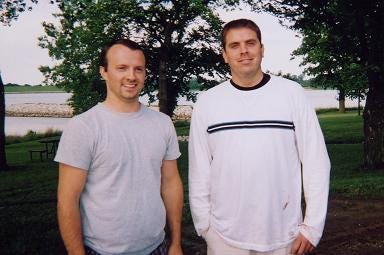 "It's really a miracle that I'm here I wish Cory was too," Jim Sullivan said. For the first time since a deadly boating accident, survivor Jim Sullivan is sharing his story. Sullivan along with his friend Cory Adams were fishing at Branched Oak when tragedy struck.
Tonight he's sharing what happened that night, and what he wants people to remember about his friend. It was a heartbreaking story that touched the hearts of so many in the Lincoln area. 2 buddies doing what they loved to do, and then the unthinkable happens.
On march 5th–life changed for Jim Sullivan– "it started under there we jumped in and it exploded and the battery exploded and the fire pretty much burned all the way to front of the boat," Sullivan said.
He was fishing on Branched Oak Lake with his best friend Cory Adams when tragedy struck.
"I realized I couldn't stay in the water any longer and so I got back in the boat and it was still on fire which the ironic thing is the fire is what kept me alive," Sullivan said.
Cory continued to swim to shore for help–but with hypothermia quickly taking over his body..he never made it–he was found 3 days later.
"It's weird because I'm here and I feel like I shouldn't be because of what we went through that night but God has a plan and there's a reason. Cory left behind a wife and 3 daughters–and Jim has stepped up to make sure they will be provided for.
A unique fundraiser called "Benz for Bucks" is being held in which this 1979 Mercedes Benz convertible is up for grabs. By donating money to the Adams family, you'll receive a ticket and be entered to win the car. It's events like these that keep Jim's head up in the face of such grief.
"I'm heartbroken, he's my best friend like I said a brother to me and I wouldn't say it's getting easier yet at this point I'm staying busy but doing fundraiser's for Mandy and the girls that does help," Sullivan said.
Although Cory is no longer here, Jim says this is a small way to help keep his memory alive for his 3 young daughters. "I think it will mean so much more to them down the road to look back at the pictures and the videos of these fundraising events and see…wow my dad he touched so many people and people loved him," Sullivan said.
Along with a silent auction—the winner of the convertible will be announced on May 10th at the Hillcrest Country Club– that weekend friends and family are also hosting a fishing tournament to help honor Cory in a sport he truly loved.
The convertible will be on display before, during and after the NU spring football game at Melichar 66 Service, located at 9th and Q.
For more information log onto www.Remembercoryadams.com