Fatal crash victim father visits Southwest High School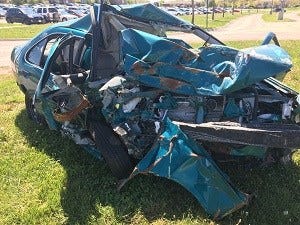 Lincoln Southwest High school students are getting a sobering reminder about the effects of drunk driving days before prom.
One of the first things you see at the school is this smashed up car in the roundabout.
It took the message a step further by inviting Lloyd Roberts Thursday morning.
His daughter was killed in a crash after drinking and driving 21 years ago.
"My life as I knew it ended right there. I turned around just in time to catch my wife as she began to faint," Lloyd Roberts said.
Roberts shared his story of his 17–year–old daughter to help students know their choices can affect others.
The event was organized by Southwest's school resource officer Joe Fisher and student group FCCLA.
They hope students are touched after hearing Roberts words.
"It was very hard to hear something like that because it can happen to anybody and hearing from a parent is even more impactful," LSW FCCLA Member Sophia Kirpal said.
It's reported that more teens die from drunk–driving related crashes around this time of year.
Southwest and Mothers Against Drunk Driving want students to think twice before getting behind the wheel.
"It poses a safety risk both teenagers and families and the community in general because we all share the roadways and we all want the best and brightest future for these teenagers," MAAD Nebraska Program Coordinator Amanda Miller said.
If you're not sure how to address this with your teen, we'll have a link to some resources on visit this website.