FBI asking for help in finding AK-47 Bandit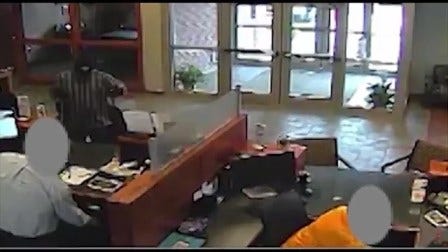 By: Kayla Bremer
kbremer@klkntv.com
The FBI is asking for the public's help in finding a notorious bank robber wanted across the country.
He's known as the AK–47 Bandit. His latest heist was a bank in Nebraska City in August.
The FBI is offering a $100,000 reward for information leading to the arrest and conviction of the suspect. They released new surveillance video Tuesday from the robbery that happened right here in Nebraska.
Authorities say he's wanted for six bank robberies in four states. His crime spree started in California in 2012.
"We are confident that somebody in the public knows this suspect and can help us solve the case," Chino Police Department's Capt. Karen Comstock said.
His most recent target? First Nebraska Bank in Nebraska City on August 22nd. In the surveillance video, you can see him armed with a high powered assault weapon ordering employees to empty out the vault, then making off with a duffle bag full of cash.
"Not only does he have a serious weapon but he has a lot of ammo as well," Chino Police Chief Miles Pruitt said.
The spree started in Chino, CA nearly three years ago. Police say the bandit called 911 to create a diversion before robbing the bank. During his escape there, police say he shot and seriously wounded an officer.
The following month, two more banks in California. Then Washington and Idaho before hitting Nebraska.
Investigators believe the suspect may have military or law enforcement experience and is armed and dangerous.
"We at the FBI as well as the Chino Police Department, we are very concerned for the safety of the public as well as law enforcement based on this individual propensity for violence," Special Agent Kevin Boles said.
Authorities believe he may still be driving the same car used as a get away vehicle is several of the robberies. It's a dark grey four–door Nissan Maxima with tinted windows and chrome accents.
If you have any information about the suspect's identity or whereabouts, you are urged to contact investigators at 1–800–CALL–FBI.
More information:
-He is a white male, approximately 25-40 years old, about 6 feet tall, with light-colored eyes and a stocky build.
-During robberies he wears a balaclava ski mask, body armor, and black gloves.
-He carries an AK-47 assault rifle with a drum magazine.