Feb. 14th is National Donor Day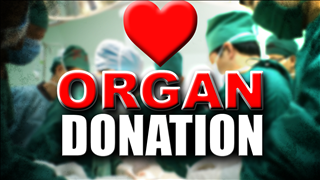 Posted By: Channel 8 Eyewitness News
8@klkntv.com
Below is a press release from the National Donor Alliance.
February 14th is National Donor Day, an observance day originally designated in 1998 by the U.S. Department of Health and Human Services, the Saturn Corporation and its United Auto Workers to raise awareness for organ, eye, tissue, marrow, platelet and blood donation. Today, nearly 120,000 patients are on the waiting list to receive a lifesaving organ transplant, and countless others are in need of cornea, tissue, bone marrow, blood and platelet donation.
Valentine's Day – and every day for that matter – is the perfect day to register as an organ, eye and tissue donor! What a better way to express love than to commit to saving and healing lives by joining the donor registry? Donate Life Colorado and Donate Life Wyoming encourage individuals to use National Donor Day to discuss organ, eye and tissue donation with their families. Registering as an organ, eye and tissue donor means you have made the decision to donate your organs, eyes and tissues at the time of your death. It is important to discuss your wishes with your family, as your decision to be a donor takes priority over your family's preferences. To be sure your wishes are honored, it is essential that you communicate them to your family, as they will be informed of your decision to be an organ, eye and tissue donor at your time of death, and asked to provide information about your medical and social history. Making the decision for yourself in advance makes it easier for your family during a difficult time.
Just one donor can save up to eight lives through organ donation and save or heal more than 75 lives through eye and tissue donation. You can learn more about the need for donation and about how individuals can take action by visiting DonateLifeColorado.org or www.DonateLifeWyoming.org.
Want to join in on social media? Tell us why donation and transplantation is important to you by using the hashtag #GotHeart. Help us spread awareness for organ, eye and tissue donation and for the 2,500 people right here in Colorado and Wyoming who are waiting for a lifesaving organ transplant.