Fifth annual Small Business Saturday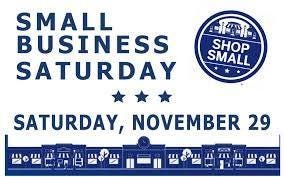 Posted By: Camila Orti
City officials are encouraging people to "shop small" on Small Business Saturday, the day after Black Friday.
Some Lincoln shoppers are taking that suggestion seriously.
"We're seeing how many boutiques we can find," Julie Hoppe of Lincoln said.
For those like Hoppe, holiday shopping is best done at small, locally-owned boutiques.
"Lincoln has a ton of cute little stores that I think a lot of people aren't even aware of," Hoppe said.
If there's a day to discover those stores, it's the Saturday after Thanksgiving, nationally known as Small Business Saturday.
"When you're supporting a local store you're keeping the economy in the city and in your local environment," Annie Norris of Omaha said.
Norris likes to shop at the Post and Nickel when she's in town, a specialty clothing shop that's been in Lincoln since 1966. From veteran stores like the Post and Nickel to up-and-coming businesses, entrepreneurs say their livelihoods depend on the public's decision to "shop small."
"It's almost a pay-it-forward type of attitude," local business owner Anne Schulte said.
Schulte opened Letter Bee Paperie in the Haymarket about six months ago. She's hoping the people of Lincoln help her stationary and party goods boutique stick around for the long haul, and she'll return the favor.
"This is money that stays here in your community, every dime you spend we're turning around and reinvesting in the community as well," Schulte said.
The trend seems to be catching on with numbers growing year after year. On this day in 2013, people spent around $5.7 billion at local shops.
Earlier this week, Mayor Chris Beutler also mentioned that every dollar spent at a local business has three times the impact on the community as a dollar spent at national chains.