Final set of LPS graduation ceremonies at Pershing, first set at PBA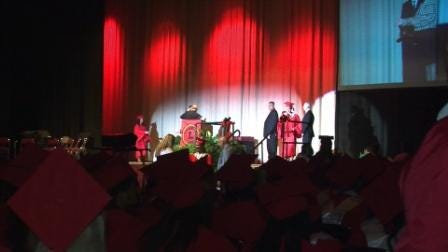 By: Lauren Fabrizi
lfabrizi@klkntv.com
It's the end of an era for the Pershing Center. The Lincoln landmark saw its last set of Lincoln Public Schools graduation ceremonies Sunday.
Hundreds of students tossed their caps for one final time before it closes.
Lincoln High School graduate Emma Louise Waechter said she wouldn't have had it any other way.
"It was really important to me to work hard to be able to walk across the same stage that my grandparents, parents and brother walked across," Waechter said.
Over to the West Haymarket, Pinnacle Bank Arena saw its first set of LPS high school students get ready to begin a new chapter in their lives.
"We're also the first of our siblings to graduate," Nicole Kennedy of Lincoln East High School said. "So it's a new experience for everybody, and it's a nice arena."
But for Kennedy and her sister, Shanissa McBride, all that really mattered was walking across the stage together.
"It helps to have the emotional support of your sister there," McBride said.
The Pershing Center celebrated the graduations of Lincoln High, Lincoln Southwest and Lincoln North Star seniors, and the arena housed Lincoln Northeast, Lincoln East, and Lincoln Southeast students.
But no matter where the high schoolers graduated, they had hundreds of proud parents, family members and friends right there with them.
Something Landon Beard of Lincoln East High School said he was so grateful for.
"Seeing everyone that you spent the last four years with and seeing everyone walk across the stage, and hearing everyone talk about their experiences and everything," Beard said. "Seeing all the people supportive in the crowd and teachers and everything was just like the sealing deal of it."
The Pershing Center still has a summer line-up of concerts and events before it finally shuts its doors.