Update: Grand Island fire destroys several businesses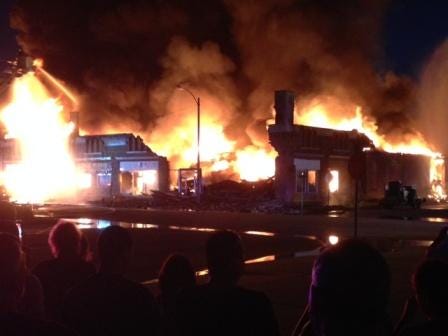 By: Jenn Schanz
jschanz@klkntv.com
A lot of clean–up to do in Grand Island Monday morning, after flames engulfed the corner of 3rd and Elm the night before, destroying a thrift shop and automotive store.
Cellphone video sent in from a viewer shows tall flames and thick smoke quickly rising from the building.
"The smoke was so high it was coming above the top of the buildings," says Reginald Lee, a Grand Island resident.
"You could smell the smoke, you could smell the oil. And you could even hear some pops every once and a while, and it was fairly loud," says Linda Woldruff. She lives just a few blocks from where the fire started.
Fire crews were able to put the fire out, but the blaze was too much for the structure to stand.
"The roof caved in, we had to pull crews out from the inside cause the roof was falling in on them," says Ed Carlin of the Grand Island Fire Department.
Officials say one fire fighter was hurt, but is expected to be okay.
The building was built back in the 191920'sarea business owners say it was a nostalgic corner.
"I've been here 21 years on this corner, and it's just a unique architectural building that's a part of Grand Island's history that's gone, and it really, it saddens me to see it," says Arthur Anson, who owns a Barber shop across the street.
The day after the blaze, Brian Bohrer is letting out a sigh of relief.
"Right where the building is collapsed, just to the left you see a brick change, from one color to the other. That's where our building starts. And we are the only thing left here," he says.
Bohrer bought the audio store next door three days ago. Insurance? That didn't kick in until Monday.
"Flames were three stories high, coming out of the building. I mean, we thought all was lost. I mean, my heart was in my stomach," he says.
Somehow though, Edwards Audio is barely touched.
As for the businesses in the building next door, they'll have to start from scratch.
Fire crews are still working to determine exact damage estimates, and the cause of the fire.