Fire victim's wife thanks husband's rescuers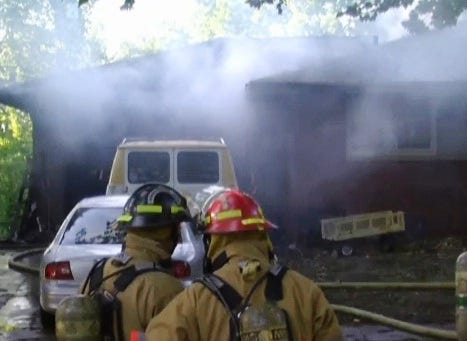 By: Ian Hest
ihest@klkntv.com
A family is picking up the pieces after a fire Thursday destroyed their home. Darwin Spear is still in the hospital after needing to be pulled out of his home Thursday by a complete stranger. The home was up in flames Thursday as firefighters rushed to put it out. But it's one man's heroics that saved a man's life.
A blazing fire, smoke rising above Lincoln, all stemming from what investigators say was an extension cord in a cluttered area. Fire investigator Don Gross says an overheated cord caused this fire near Saint Elizabeth's which sent Darwin Spear to the hospital. The hospital said Spear is in fair condition with some small burns to his forehead. But it could have been much worse…if a complete stranger hadn't sprung into action.
"Not really. Just adrenaline. I heard him yelling for help and ran inside," Jaimi & Shane Hankins said.
Today, the family was picking up the pieces of what's left of their home. A home they've owned for more than 40 years.
"I bought it when I was 20 and I'm not 20 anymore but anyways, I've been here a long time,"
Fire victim Sally Spear said.
But Spear says she can replace material things, what matters is that her husband is ok. And she says she couldn't be more grateful to the man that made it possible.
"He is amazing. I had no idea who he was but I was so glad he was able to help my husband get out," Spear said.
One of the Spear's 2 dogs didn't make it out of the fire. Fire investigators say you always have to keep extension cords in an open space and don't hook them up to a constant source. They're made for things to run for a short amount of time.