Firefighters battle 2-alarm blaze west of downtown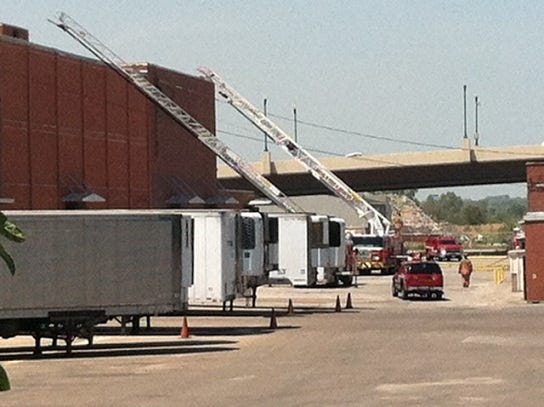 By: Megan Palera
mpalera@klkntv.com
Lincoln firefighters remain at the Farmland Foods plant near 2nd and West O Street.
Hundreds of workers were evacuated Thursday afternoon after a fire broke out inside the Farmland Foods building.
Fire Chief, John Huff, says it didn't take long before upgrading to a two-alarm blaze. "There was a lot of smoke in the upper area. It was very difficult to access, very limited access unfortunately so they're challenged a bit just getting into the area of the fire," said Huff.
That fire was in a room that stores materials to make the company's boxes. It started just before 2:30 and officials say the sprinklers kicked in right away, helping to control the blaze.
Luckily, a fire station is right across from Farmland Foods so response was almost immediate. But firefighters are dealing with more than just flames and smoke, they're also battling heat.
"This is really nasty weather for us. This kind of weather diminishes our time frame for how long we can actually operate because of the heat," said Chief Huff.
Huff says every twenty minutes, a new crew was rotated in so that the others could cool off and rehydrate. Because the smoke was so thick and difficult to get out of the building, Huff says nearly everyone on duty Thursday was brought in to help.
All of the workers were able to make it out safely. They did have to sit outside in the heat for several hours though. Officials still don't know the cause.