Firefighters extra careful with high heat index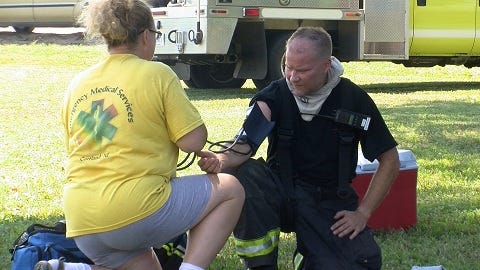 By: Jenn Schanz
jschanz@klkntv.com
On afternoons this hot, many of us opt to stay indoors, protected by air conditioning.
But firefighters don't get a break from triple digit temperatures.
When the call came in just after 2 p.m. about a garage fire near Firth, firefighters from four different departments rushed to the scene.
Cortland Fire Chief Jerry Vrbka was prepared for the fire, and the heat from mother nature.
"It makes it difficult when it's this hot. You want to definitely change your people out, keep them hydrated, get them in the shade whenever you can. But it doesn't take very long and you're worn out," he says.
Every year, firefighters across the country go to hospital for heat exhaustion and heat strokes. In high temperatures, they say limiting exertion is vital.
"It's hot; you've got to kind of control your adrenaline and remember not to run back and forth, just got to take your time," says Cortland firefighter Adam German.
In addition to ladders, hoses, and of course what they have to wear, crews made sure they had an abundance of water.
In extreme heat, medical professionals accompany departments on every fire run to provide backup.
"We keep water around, take their blood pressure whenever they come away from the fire," says EMT Cristi Grusing.
Firefighters also say staying in shape is an important part of their job, especially during heat waves.