Firefighters help one of their own after a paralyzing accident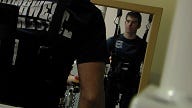 By: Jenn Hatcher
jhatcher@klkntv.com
One step at a time, Alex McKiernan is gaining more control of
the lower half of his body.
"I have pretty high standards for myself and I don't know if
I'll ever get back to where I was," says McKiernan.
In January, the 34–year–old fractured a vertebrae in a car
accident.
He lost all feeling from the waist down.
The Martell resident was stopped at a red light at highway 77
and Saltillo
road when a distracted driver plowed into the back of McKiernan's car.
"I hope people recognize that just a few seconds of
distraction can totally change someone's life," says McKiernan.
The local farmer and southwest rural volunteer firefighter
was cut out of the car and loaded up on a helicopter, by his own men.
"I don't remember the accident at all," explains
McKiernan.
McKiernan remembers coming to, as a brother asked where he
was hurt.
"I had a searing ball of pain in my lower back and from that
I felt numbness moving down my legs," McKiernan recalls.
He knew right away it was a spinal injury.
"It's extremely scary and frightening," says McKiernan.
After a few weeks at Madonna Rehabilitation
Hospital, McKiernan
regained some feeling, he could move his ankle.
Five weeks after the accident, he's able to walk a short
distance, with assistance and a walker.
"His walking gets better every time we do it. Our goal is to get him home and walking,"
says Kristi Rocole, his physical therapist.
McKiernan and his wife own Robinette Farms.
Since the accident they've put a lot of production on hold,
the dad of three hopes to be home in the next month.
"I miss my little girls a lot, they change so much and
so quickly and I really miss seeing them and playing with them," says
McKiernan.
The Southwest Rural Fire Department recently built an access
ramp on McKiernan's home.
This Sunday, there will be a chili feed to benefit the
family.
That fundraiser goes from 4:30 to 8 at the Sprague–Martell Community Center.