First day of classes in new Crete High School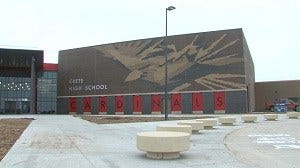 Posted by: Marlenia Thornton
mthornton@klkntv.com
Students at Crete High School are loving it.
They got to settle into their new home Wednesday.
It was their first day in the new building.
It's a multi–million dollar upgrade compared to their old facility, which is just down the road.
Students are pumped.
"I'm really excited. It's a great opportunity for us to improve our learning and the atmosphere where we're at. It's a really great gift that we got from our community," Crete Student Body President Roni Miller said.
"I think it's great. Everything is like made that we want to be here, which is awesome," 9th Grade Student Ebben Blake said.
The new building is about 174,000 square feet, which is more than 40,000 square feet than the old one.
It features things like a new gym and a state-of- the art theater.
Students and teachers say the most challenging part of the day was just learning where everything is.
Overall though, they say the transition has been good.
"There was a lot of unknowns how we would make this transition in the middle of the year, but it went fairly smoothly," Crete High School Science Teacher Dawn Draeger said.
This was all in thanks to part the Crete community.
It approved a $30 million bond issue, which helped pay for the school.
They broke ground the spring of 2014.
Students and staff are thankful for the new building and glad the anticipation is now over.
"It's always like can't wait, can't wait, and now here we are and again the reality. That this is really our new home and we love it," Crete assistant principal Jim Moore said.
If you're wondering what will happen to the old high school, it's being renovated to become the new middle school.