First floods, now farmers dealing with drought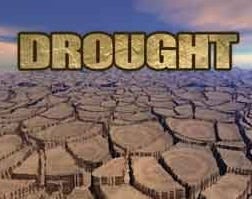 By: Kayla Bremer
kbremer@klkntv.com
Two locations in Southeastern Nebraska that were affected by last year's flooding are now feeling the effects of this summer's worsening drought.
Last summer, locations near the Missouri River were devastated by heavy rains and high flood waters. In many areas you can still see the damage. Empty fields that were once green but now all that is left is sand.
This year, farmers are worrying about just the opposite.
The drought continues to move further east and fields and crops are suffering due to the triple digits and lack of rain. "It's always tough to plant a crop and see it come up and get a good start and then dry out," said farm owner, John Crook.
Parts of Crook's land were completely under water last year. He lost his entire bean field but says this year it's doing the best due to leftover moisture.
But it's a different story for his corn. Many parts of the field are dried out, leaving patches brown and corn ears half the size. "I expect my crops personally to be about 50 percent normal," he said.
Kimmel Orchard, just outside Nebraska City is also seeing the affects of the drought. "About 15 percent of what we're growing is coming up small. Just never, there's not enough moisture in the ground," said General Manager of Kimmel Orchard, Erik Olson.
Olson says although the drought affects the growing and size of the fruit, it actually has a positive affect on the taste. "I think it makes the fruit tastier so it's not all bad. The cells don't fill up as much with water and you have an intense taste in the apple or fruit that you're getting," said Olson.
Farmers and Kimmel Orchard will continue to wait for the rain but are staying optimistic.