First Snow Falls In Nebraska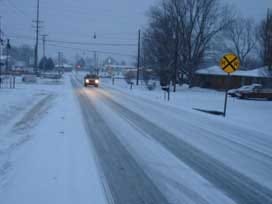 A storm system moving across the Midwest has blanketed much of Nebraska with its first big snow of the season.
Central Nebraska felt the brunt of the wintry blast, with 1 to 17 inches reported Friday night into Saturday in some areas.
The National Weather Service says a new snowfall record was set in North Platte for the month of October. At the regional airport there, 13.8 inches of snow was recorded. The previous record was 13 inches, set Oct. 29-30, 1896.
Around Lincoln, the heaviest of the snow fell along the Interstate 80 corridor, where anywhere from 2 to 5 inches accumulated on mostly grassy areas.
Meteorologist John Springer, in the services' North Platte office, said the snow would taper off by Saturday afternoon. The region may see freezing rain on Sunday, with towns in north-central Nebraska and in the northern Panhandle getting another 2-4 inches of snow.