Fishing for some family fun?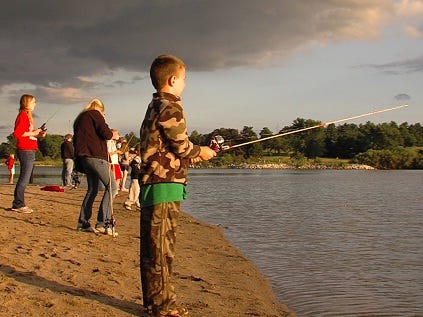 By: Vanessa Brown
vbrown@klkntv.com
If you're looking for something fun to do with your kids this summer, here's an idea that won't break the bank.
Nebraska Game and Parks offers free family fishing events, and free fishing instruction for area youth.
Lincoln's first Family Fishing Night of the season was a huge success.
Rylan Smith: "I only caught 1, but I got a few nibbles."
Juriah Lawson: "I could have almost lost that fish." Were you excited to get it though? "Yes!"
Levi Epp: "I was like whoa baby, it was real. It was like a real one."
There are many more to come, thanks to Nebraska Game and Parks and the youth fishing program. Each year, more than 200 active, certified volunteers help put on the events. There are more than two dozen this summer, for kids like Levi.
Levi: "I just love fishing with my family."
The best part about the program.. volunteers come stocked with supplies… You bring the kids, we'll bring the poles.. and the bait. And the fishing's free!
Larry Pape: "They need virtually nothing. They just need to come up and introduce themselves and we'll get them started. We've got everything they need."
From "how to" demonstrations to advanced fishing techniques.. Game and Parks is offering 28 events statewide. Six more here in the capital city, all connecting families with the outdoors.
Bryce Schwanke: "Sitting at home, watching TV just gets so old, so I try to be outside as much as possible and try to instill that into our next generation of kids."
A generation that seems to catch on quickly…
Rylan: "You got to wait for the bobber to go down. Don't just stand there and reel it in all the time, you gotta wait, you gotta be patient."
Juriah: "You want to bob it like this.. woosh.. and then you got it."
If your child is under 16, they don't need a fishing permit.. And you're allowed to help without one. There's an event this Saturday at Holmes lake.
For more information about Family Fishing Night, log onto this website: http://outdoornebraska.ne.gov/fishing/programs/FamFish/famfish.asp