Flooding hotline and information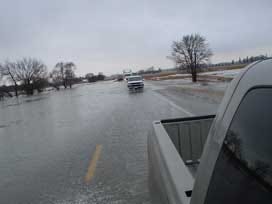 The Nebraska Emergency Management Agency has flood-related resources for those affected by the flooding in Nebraska.
Flood-related resources and links can be found on the NEMA website at www.nema.nebraska.gov
Español infomación –( Spanish language information):
Para infomación de las inundaciones en Español, por favor usa estos recursos (For flood information in Spanish please use these resources):
Website Resources – En Español
Regreso al hogar después de un huracán o una inundación
Cómo reparar su hogar inundado
Planificación y la Recuperación Después de un Desastre
Manual de Reclamación para Seguros Contra Inundaciones
State Response
Residents should stay tuned to local news and follow directions from local and state officials.
The Coast Guard restriction on recreational boats on the Missouri River along the Nebraska-Iowa border remains in effect.
Flood Hotline
A Nebraska Emergency Management Agency public information phone line, (855) 211-2453 or (855) 211-2454, will be staffed from 8 a.m. to 8 p.m. daily, including weekends. The hotline is busy, please be patient.
Weather
For updated weather information weather: www.noaa.gov and www.weather.com
Road Information
Current road information is available from the Nebraska Department of Roads at: www.511.nebraska.gov. Citizens are encouraged to find alternate routes. Do not drive over any road that is covered with flood waters. Do not remove road closure barricades. Barricades are in place for your safety.