Former inmate speaks out about Corrections error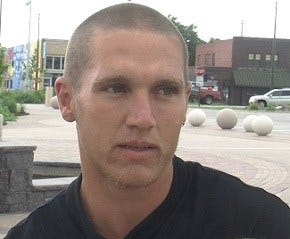 Posted By: Camila Orti
Jordan Lybarger was a free man on Wednesday until he got a call from the Corrections Department. He was told he'd have to report back to prison.
"It really did tear me up when I got that call and had to go back, I don't ever want to feel that feeling again," Lybarger said.
The 24-year-old is having trouble sleeping at night. He's one of 20-25 former inmates being rounded up by law enforcement officials after the Nebraska Dept. of Corrections miscalculated hundreds of sentences, cutting them short.
"He didn't even tell me what was going on or why I was going back he just said they recalculated my time," Lybarger said.
An investigation revealed that the department had miscalculated more than 500 inmate sentences, leading to the early release of more than 300 people.
Governor Dave Heineman and Attorney General Jon Bruning addressed the issue in a news conference Friday. They say officials from eight different counties quietly started serving warrants last week to bring the inmates that were released early back into the system.
"We have an obligation to carry out that sentence even though a mistake was made," Heineman said.
Lucky for Lybarger, he only had to spend one night behind bars before he was released on Thursday. He says he wasn't given any further information; he doesn't even know when his parole is set to end.
"They don't tell you nothing, even my parole officer says that he don't know if it's going to change or not," Lybarger said.
Engaged and father to a 6-month-old, he says he just wants to know what's going to happen to him. His father, Kevin Lybarger, says he's considering a law suit.
"We're all in limbo and sleep is less at night time until we do get some answers," Kevin said.
The Governor's office confirms at least one law suit has been filed, but will not give any further updates on the situation.