Former Norris Schools superintendent recounts Hallam tornado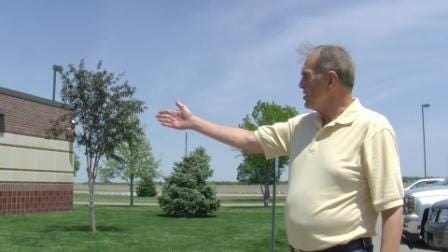 By: Lauren Fabrizi
lfabrizi@klkntv.com
Thursday will mark 10 years since a massive tornado destroyed parts of Hallam, Norris Schools and nearby communities.
But for the schools' former superintendent, Roy Baker, the memory is still fresh.
"It was like a scene from a horror movie," Baker said.
On May 22, 2004, lightening struck as debris filled the campus. Baker said he will never forget what he saw when he pulled into the parking lot.
"The roof was torn off, there was water everywhere," he said. "The roof collapsed into the hallway."
But Baker said the community instantaneously went into repair mode.
"We'd have on any given probably 300 people working out here," he said.
Although the buildings weren't completely ready for the start of school come fall, Baker said they made do. Sure enough, with time, he said things were not only as good as new, but even better.
Baker said, however, there are still some small reminders in the walls that reflect the damage from that night. But he said they're good reminders, because he said when faculty and staff look back 10 years, they remember it as their best year at Norris.
"The entire community pulled together, the school staff pulled together" Baker said. "And we came out of that better and stronger than ever before."
An open house will be held tomorrow in Hallam from 5 to 8 p.m. at the town's fire station for the tornado's 10-year anniversary.