Fortune 500 Company leaving the state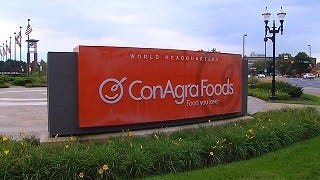 Posted By: Reid Kilmer
rkilmer@klkntv.com
On Thursday the Fortune 500 Company ConAgra Foods announced it's packing up its headquarters and moving it from Omaha to Chicago.
The company says the relocation will cost a 1,000 employees their jobs. They say 1,200 people will remain in Omaha, 300 will move to Chicago and no plant positions will be affected.
Tom and Karen Gensler who live in the city say they feel bad for the families.
The Genslers said, "I think it's difficult because you probably moved your whole family here and they are in schools and this, it's sad, we can't be happy about it."
ConAgra says it will take two to four weeks to notify all of the employees about what will happen to their specific jobs.
Omaha Mayor Jean Stothert says even though the unemployment rate remains low at 3% in the city, this is not what she wanted to here.
Mayor Stothert said, "One thing the CEO told me yesterday is that once it's announced I don't think people will think it is as bad as it may seem now, and to me it is as bad as it seems now or even worse because there are over a thousand people in the city of Omaha that will no longer have a job in ConAgra and that is a big concern to me."
Governor Pete Ricketts released a statement saying, "While I regret ConAgra's decision, it is a reminder why we must continually look for new ways to ensure our tax rates and incentive programs remain competitive."
The governor goes on to say his office and the "Nebraska Department of Labor" are ready to assist those now affected by the layoffs.
ConAgra says Omaha's layoffs are just a part of their restructuring plan and will end up eliminating 30% of their global office–based workforce.