Four puppies found dead in a northwest Lincoln dumpster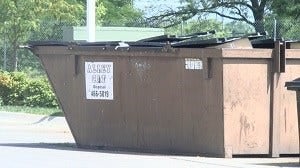 Posted by: Marlenia Thornton
mthornton@klkntv.com
Some employees at the Casey's General Store near Northwest 48th and West Adams made an odd discovery Wednesday morning.
They found four dead newborn pit bull puppies inside of a shoe box in a dumpster.
"The Casey's employees may have seen an individual put something in the dumpster and became suspicious," Lincoln Animal Control Manager Steve Beal said.
That's when Animal Control and Lincoln Police got involved.
The puppies were later turned over to a vet for an autopsy, who said they were dead for less than a day.
The exact cause of death is unknown, but the vet doesn't believe they were stillborn.
Officials also think the dogs were dead prior to being thrown away.
There were also no signs of trauma to them, but Animal Control is investigating the case as neglect.
"We don't really know the circumstances that transpired prior to these puppies being born and whether or not they were getting the type of veterinarian care they should've," Beal said.
Animal Control strongly encourages people to seek help first before situations like this happen.
Officials said they do have a suspect in mind and this would most likely be a misdemeanor.
"It won't be something we'll just drop we'll pursue it until we get to a point where there is some closure," Beal said.
At this point, there have been no citations given.
If you need help with a pet, please call Animal Control at 402-441-7900 for some assistance.