Fred Hoiberg, Huskers ready for I-80 rivalry at Creighton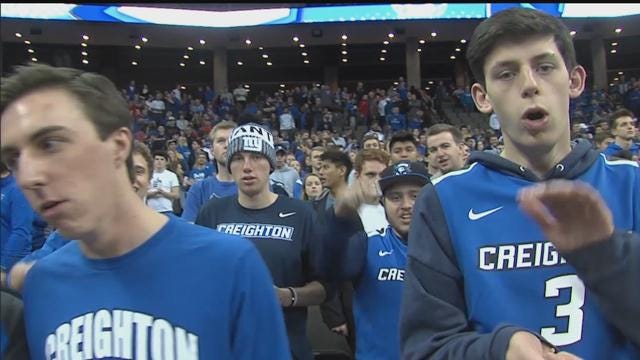 From: Nebraska Athletics
The Husker men's basketball team looks for its second straight win in the annual in-state matchup, as Nebraska makes the short trek up I-80 to take on the Creighton Bluejays Saturday afternoon. It is Nebraska's longest running non-conference series and enters Saturday's game deadlocked at 26 wins apiece.
Tipoff at the CHI Center in Omaha is set for 1:31 p.m., and the matchup between the Huskers and Bluejays will be televised on FS1 with Vince Welch and Nick Bahe on the call. The game will also be available on the Fox Sports app on tablets, computers and mobile devices.
Fans can follow all of the action across the state of Nebraska on the Learfield-IMG Husker Sports Network with Kent Pavelka and Jake Muhleisen on the call. The game will also be available on Huskers.com, the Huskers app and TuneIn radio. The pregame show begins one hour prior to tipoff.
Nebraska (4-4) could not overcome a poor shooting night in a 73-56 loss at Georgia Tech on Wednesday. The Huskers, playing their first road game, shot 32 percent from the field, including 25 percent in the second half, as the Yellow Jackets pulled away down the stretch. Georgia Tech's Michael Devoe led all players with 26 pointers.
Senior guard Haanif Cheatham was a bright spot in a losing effort, as he posted his first career double-double with 14 points and a career-high 11 rebounds to lead four Huskers in double figures. It marked his fourth consecutive double-figure scoring effort, a stretch where Cheatham is averaging 18 points per game.
The Huskers' offense has been balanced during the early portion of the season with three players averaging over 12 points per game and a fourth in double figures, Much of that has been due to the play of point guard Cam Mack, as the sophomore is among the Big Ten leaders with 6.0 assists per game, while averaging 12.4 points per contest. Mack had 11 points and six assists in the loss at Georgia Tech.
Creighton is 6-2 on the season following a 72-60 win over Oral Roberts on Tuesday. In that game, Christian Bishop's 17 points and eight boards led four Bluejays in double figures, as Creighton shot 49 percent, including 8-of-17 from 3-point range in building a 15-point halftime lead.
WATCH
Huskers set for Fred Hoiberg's first taste of I-80 Rivalry:
Fred Hoiberg on his relationship with Creighton coach Greg McDermott:
PLAYER SPOTLIGHT
Thorir Thorbjarnarson comes off an 11-point, seven-rebound effort in Wednesday's game at Georgia Tech. The 6-foot-6 guard is shooting 48 percent from the field and 43 percent from 3-point range this season after shooting just 35 percent from the floor in his first two seasons.
NUMBERS TO KNOW
4 – Double-digit scoring performances from Kevin Cross, which is the most by a Husker freshman since 2016-17 (5-Jeriah Horne and 4-Jordy Tshimanga). Cross is sixth among Big Ten freshmen in scoring at 8.5 ppg entering this week's action.
5.3 – Rebounds per game for freshman Ivan Ouedraogo, which is fourth among all Big Ten freshmen. His rebounds per game is on track to be the highest by a Husker freshman since Aleks Maric grabbed 6.3 rebounds per game in 2005-06.
6 – Three-pointers this season for Thorir Thorbjarnarson, as he is 6-of-14 from long range. In his first two seasons, he went a combined 6-of-28 behind the 3-point stripe.
6.0 – Assists per game for sophomore Cam Mack, which is on pace to be the highest average since Brian Carr averaged 6.7 assists per game in 1986-87.
8 – Nebraska has had eight players score in double-figures during the first eight games of the season. Nebraska has five players averaging at least eight points per game, including four in double figures.
50- Returning point total from last season, all by Thorir Thorbjarnarson. That is the lowest by any power conference team since the 2009-10 season.
SCOUTING CREIGHTON
The Bluejays come into Saturday's game with a 6-2 mark following a 12-point win over Oral Roberts Tuesday evening. The Bluejays returned nine letterwinners and four starters from a team that went 20-15 and reached the quarterfinals of the NIT. Creighton is 5-0 at home and 1-2 away from the CHI Health Center in 2019-20. Creighton's two losses came at Michigan in the Gavitt Games and against San Diego State in Las Vegas last weekend.
Creighton's strength is an offensive attack that averages 75.1 points per game and averages 9.4 3-pointers per game. Sophomore guard Marcus Zegarowski leads the Bluejays with 17.9 points and 4.3 assists per game, while shooting nearly 50 percent from the floor. He is one of three Bluejays averaging double figures, joining Ty-Shon Alexander (15.9 ppg) and Mitch Ballock (12.6 ppg). Creighton has seven players averaging at least five points per game.
Greg McDermott is in his 10th year at CU after coaching at Iowa State, Northern Iowa, North Dakota State and Wayne State.
Series History: Nebraska and Creighton are meeting for the 53rd time in series history on Saturday, as the teams have tied at 26 wins apiece. It is the longest non-conference series on the Huskers' schedule. The home team has won 11 of the last 14 years, while Nebraska snapped a seven-game losing streak in the series with its win at Pinnacle Bank Arena last season. The Huskers' last win in Omaha was a 71-70 win in the 2004 NIT.
LAST SEASON'S MATCHUP
All five starters scored in double figures as No. 24/25 Nebraska used a balanced and efficient offensive attack to cruise to a 94-75 victory over Creighton. Nebraska scored 47 points in each half while putting up the third-highest point total in its 52 all-time meetings with Creighton. The Huskers, who led by as many as 22, were up 13 at the half and Creighton never got closer than nine in the second half. James Palmer Jr. paced the Husker offense with 30 points, hitting 9-of-12 shots from the field, including a career-high six 3-pointers, and he was a perfect 6-of-6 from the line. Thomas Allen added a career-high 18 points on 7-of-11 shooting, while Isaiah Roby chipped in 15 points and grabbed a game-high eight rebounds.