Free Easter meal draws hundreds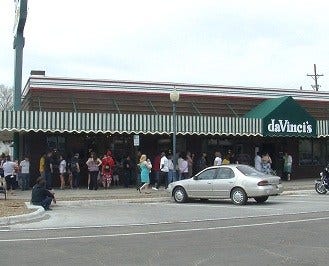 Posted By: Camila Orti
corti@klkntv.com
The 31st annual daVinci's Easter meal drew hundreds of people from across the community.
Organizers say around 1,000 people were served at the 11th and G streets location. The Knudson family, co-owners of daVinci's, puts on the event every year so that low-income families, including guests from the People's City Mission, can enjoy a holiday meal on the house. But, they say everyone was welcome.
"We want people to have somewhere to go on Easter," organizer and daVinci's co-owner Kelly Knudson said. "The Lord has blessed us in this community and we just feel we need to give back to Lincoln, Nebraska."
Some City Mission guests estimated there were around 50 people from the shelter in attendance.

"I just really am glad that Lincoln is giving back to the community and having this kind of event is awesome," Katie Schleichardt from Lincoln said.
Organizers say the meal wouldn't be possible without the help of about 100 volunteers who did everything from serving to cooking. Diners went through around 700 pounds of pasta and more than 300 pizzas.
"It's a family event to do together," volunteer Peg Slhele said.
She and her family have been volunteering for the past six years.
"It feels good to help others, serve on a holiday and make them feel special," Slhele said.

In case the pizza and pasta weren't filling enough, Serendipities Cupcakes, PJ's Baby Cakes and the volunteers themselves donated several hundred delicious desserts.