Free ice fishing clinic draws hundreds to Mahoney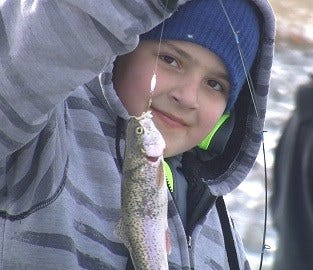 Posted By: Camila Orti
Mahoney State Park offered several winter activities Saturday to those not afraid to brave the cold.
People of all ages hit the ice at the CenturyLink Lake in hopes of catching a fish. Nebraska Game and Parks held their third annual free ice fishing clinic, and organizers say it drew more than 200 people throughout the day.
"Fishing has always been a family type activity so we touch the heartstrings of a lot of families who just want to get outdoors and do something," Organizer Larry Pape said.
For Doug Wells, it was an opportunity to do something fun with his 10-year-old son, Harry.
"It reminds me when I was a kid, but we didn't have the high-tech stuff- we were using a screwdriver and a hammer," Wells said.
Wells says it was the first time Harry attempted ice fishing, but volunteers made sure his son felt right at home.
"A gentleman just came over and took him by the hand, put bait on his hook, drilled him a hole and he's sitting there right now showing him how to fish," Wells said.
Harry seemed to be picking things up just fine- hooking several fish in the first half hour.
"It's so much fun 'cause after you catch them you get to hold them," Harry said.
Organizers say 30 volunteers helped first-timers get started. All equipment and bait was provided free of charge. Those helping out say it's a chance to pass along their sport to younger generations.
"To see their faces light up and see how they just get excited about it… that in turn gets me excited about it," volunteer Andrew Svoboda said.
Besides the fishing clinic, an "Ice Bowl" disc golf tournament brought another few dozen people out to the state park. Both events will be offered again next year.