Fremont Public Schools to implement dual language program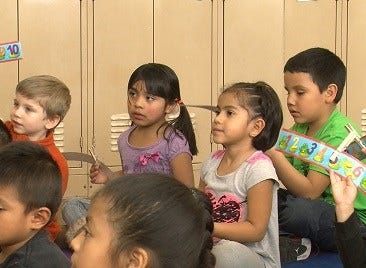 Posted By: Camila Orti
One more school district in Nebraska will be implementing a dual language program.
Fremont Public Schools will be using a kindergarten class at Washington Elementary School to pilot the program starting this fall. FPS Superintendent Mark Shepard says the goal is to close the achievement gap between English Language Learners (ELL) students and regular education students.
"Our English Language Learners subgroup was quite a bit behind regular ed students and they were also quite a bit behind their peers across the state," Shepard said.
Board members voted yes to the program a few weeks ago.
Washington Elementary has about a third of the entire district's ELL students, making it the perfect school for the pilot program, Principal Diane Stevens said.
One kindergarten classroom will teach in both English and Spanish beginning in the 2015-2016 academic year. Each year, the school will expand the program to the next grade level. Some Fremont parents like Blanca Peralta say this is exactly what the community needs. She moved to the United States from Mexico as an 11-year-old and started school without knowing a word of English.
"It's sad because I remember that I went through all that," Peralta said, "and the parents sometimes get frustrated because there's nothing they can do."
But the program won't just benefit Peralta's already-fluent kids, English-speaking students will have the opportunity to learn Spanish from a young age. Stevens said it's already drawing attention from families across the district.
"We've had a few students already, the parents have filled out transfer information," Stevens said.
The program is optional, meaning parents can choose to keep their children in English-only classrooms.
Both Omaha Public Schools and Lexington Public Schools have similar dual language programs which they both claim to be successful. OPS has had theirs in place for almost 15 years. OPS officials say, based on a recent evaluation, students in the program are outperforming their district peers more than 75 percent of the time.