Frigid weather affects Railyard skating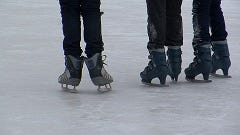 By: Jenn Schanz
jschanz@klkntv.com
Storm watches and warnings are popping up all over the
country. From flash flooding in California
to snowfall in the East Coast and Midwest.
Grocery stores in Indiana
can't fill their shelves fast enough, as people try to stock up for what's
being called another 'Arctic Blast'.
"I have three little ones at home and I want to make sure if get stuck
inside we have plenty to eat," says one Indiana mom.
And here in Capital City, the frigid cold is keeping many
inside.
"Since the cold has
really picked up we haven't had that many people," says Railyard Rink skating instructor Joey Gallagher.
Officials at the Railyard Rink say they've seen about
half the number of skaters in February than they did the month before. They say often times when the temperatures reach the single digits,
so do the number of skaters.
Temperatures got as low as 7 degrees Saturday afternoon,
causing the rink to close five hours early.
Despite the chill, there were a few who braved the cold and
hit the ice.
"I can't feel my legs or my feet," says one skater.
Rink officials say the ice will be open it's normal hours on Sunday, but because it's also supposed to be the coldest day of winter, they're not expecting much of a crowd then either.
As for those who braved the ice Saturday?
They knew just how to warm up.
"Go sit right in front of a heater."
"Drink hot chocolate and eat pie," were just a few of their post-ice plans.