Gambling debate continues in Nebraska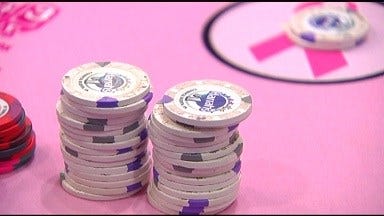 Posted By: Kelsey Murphy
kmurphy@klkntv.com
It's a debate that's been going on for years.
Now, one Nebraska group called Keep the Money in Nebraska says they're all in.
"All the surrounding states have gambling and our revenue is pouring across the borders every year to those surrounding states," Scott Lautenbaugh, former senator said.
The group wants to legalize casino gambling at Nebraska race tracks. They say it will bring an estimated 100- million dollars in tax revenue to the state and local government.
"We will see additional funding available for roads, education and other priorities instead of a tax increase which is helpful," Lautenbaugh said.
The opposing group Gambling for the Good Life is raising the stakes.
They don't think Nebraskans will benefit.
"My research and my own experience shows that has not been the case in other states that have expanded gambling," Scott Fulton, former senator said.
Former Senator Tony Fulton remembers meeting one Lincoln man struggling with a gambling problem.
"He was talking about his addiction to gambling and about how adding a casino between him and his drive to work everyday would just be temptation that he did not welcome," Fulton said.
Keep the Money in Nebraska recognizes social problems but doesn't think they only come from gambling.
"We have degrees of divorce or bankruptcy here that are in excess of neighboring states that already have casinos in them," Lautenbaugh.
They are asking the public to sign a petition to put the issue on the November 2016 ballot.
What will voters decide; it's a roll of the dice. The petitions will be circulating Nebraska until July 7th.
One is a proposed constitutional amendment to allow casino games. Another would say where casinos could be located, and the third would impose a 20 percent tax on gross gambling revenues, with 75 percent going to the state and 25 percent going to local governments where the casinos are located.