Gas prices on the rise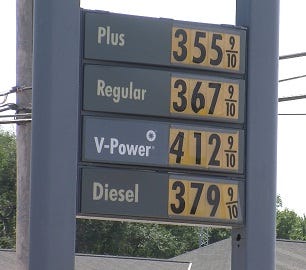 Posted By: Camila Orti
corti@klkntv.com
Another spike in gas prices hits Lincoln, the state, and the nation.
Drivers in Lincoln are not pleased.
"It's sickening out here, shoot, as if we're not getting hit hard enough with everything else, you know?" Kansas native Rich Burris said.
The average price per gallon in Lincoln is $3.67, more than 14 cents per gallon higher than it was a month ago.
In Lincoln, average prices have gone up 5.8 cents in the last week. Some drivers say it has affected how much driving they've been doing.
"I feel it in the tank, and I drive a Suburban so I have to fill it about once a week," Marston Roloff of Nebraska City said.
According to AAA, the increase in prices is due in part to rising crude oil costs, which are at the highest they've been in a year.
This is despite the fact that America is producing domestic oil at a record–breaking pace of 7.4 million barrels a day, nearly twice as much as five years ago. The problem is there's a shortage of pipeline to move that oil to consumers.
Grand Island and Omaha have an average price per gallon of $3.56, which is fairly low compared to other Nebraska cities. Kearney is near the high end, where drivers are paying an average of $3.70 per gallon.
Overall, Nebraska is about right in the middle, sitting at 4 cents lower than the national average for fuel costs.
"It's a wonder that we're not seeing more reasonable prices down here," Roloff said.
Although prices are on the rise, AAA reported that gas inventories are actually 9 percent higher than last year.