Gianna's fight against cancer continues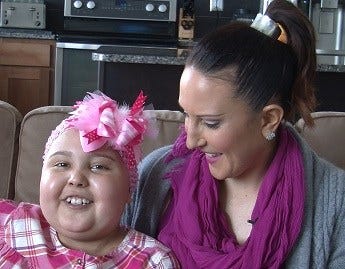 Posted By: Camila Orti
By now, you have probably heard of Gianna Carrera.
The 8-year-old was diagnosed with a rare form of brain cancer last year. Since then, the family says things have not improved. Seven weeks of radiation, dozens of MRI's and new medications have taken their toll. Today, Gianna looks like a completely different little girl.
"She is in need of almost full care, very little vision so schoolwork is incredibly hard, we're going to have to learn Braille," Gianna's mom Leah said.
In December, doctors found at least five new tumors in GiGi's brain. Then, the discovery of a blood clot in her brain stem took the third grader's medical situation from bad to dire.
"She went from completely fine on Tuesday in December to I need to take time off work and prepare for her death," Leah said.
Leah says it's something that could happen at any time.
"I wanna go back to playing with my friends, I wanna go back to being a normal child," GiGi said.
Yet, death is something Gianna has come to terms with.
"Tomorrow I may be dead but that doesn't stop me," she said.
For Leah, that's not an easy pill to swallow.
"It's awful when your child's best friend is the oncology nurse and it's awful when your child is telling you what they want for their funeral," Leah said.
Thankfully even through the swelling, almost complete loss of vision and countless doctor's appointments, some things just don't change.
"She still cracks jokes and remains positive," Leah said.
Leah says Gianna's fireball attitude keeps her and her family going. In fact, GiGi says she's come up with her own slogan: "stand strong and don't be wrong."
The family is hoping that a scan next week will shed some light on Gianna's tumors. In the mean time, they say they'll continue to be a strong voice in the community to raise awareness and funding for pediatric cancer. GiGi will be attending the Team Jack Gala on March 7th, and will be walking the runway in Omaha Fashion Week March 11th.