Going Green with solar panels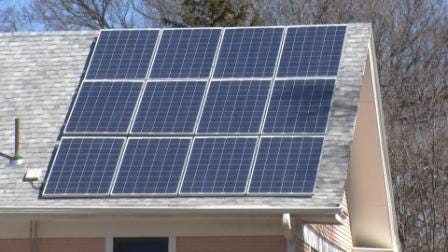 posted by: Laurann Robinson
Americans are becoming more energy efficient, and that trend is growing locally as well. Solar panels are one of the most popular ways to produce energy for your home, while using a renewable source. To date, 40 homes and businesses have installed solar panels in the Lincoln area.
Tim Rinne, local homeowner, says he has the first older home in the area to be retro–fitted for solar panels. "We have 24 solar panels, 12 on the east side and 12 on the west side of our house," Rinne said.
In addition to lessening his carbon footprint and saving an average of 300 dollars per month in utility bills, Rinne says, instead of paying a higher electric bill in the hot, summer months like most people. He actually gets paid by LES when they need to use the energy his home creates.
Rinne says, "In the summer time, in the months of July and August, when they're really fighting peak usage and are looking for extra electricity that they can dispatch and so forth, they love us because we are actually generating electricity and pushing it into the grid."
Although solar paneling works well for Rinne, not everyone can expect such high yields. Despite the federal tax credits in place, most homeowners may need to spend around 20-25 thousand dollars for the installation. But if your are interested in the long–term investment and the environmental benefits of solar paneling, there are some steps you should take first.
"I always tell customers, make sure that your home is energy efficient first. Because it doesn't make sense to generate energy and have it wasted in your home," said Marc Shkolnick, Manager of Energy Services at Lincoln Electric System.
LES also says if you live in an apartment or another area where solar paneling isn't possible, don't worry. The company is finishing a solar farm on the west side of Lincoln where users would share the panels. It should be ready for use by the end of the year.