Gov. Heineman: $500 Million Available for Tax Relief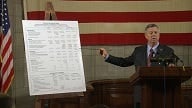 By: Jenn Hatcher
jhatcher@klkntv.com
(Lincoln, Neb.) Tuesday, Gov. Dave Heineman announced the availability of up to $500 million for meaningful tax relief for Nebraskans. Gov. Heineman is calling on legislators to provide property tax and income tax relief to Nebraskans during the 2014 Legislative Session.
"Taxes are too high in Nebraska and high taxes are detrimental to economic growth and prosperity," said Gov. Heineman. "Nebraska's strong agriculture economy won't continue to exist with unreasonably high property taxes, and high taxes limit the ability of small businesses to create new jobs. Now is the time for property and income tax relief."
Gov. Heineman outlined certain state financial reports that demonstrate affordable tax relief between $370 million to $500 million is possible by continuing to hold the line on state spending, by utilizing a portion of the record high state cash reserve fund over the next three years, and because of Nebraska's growing economy.
"We don't need more time to study the tax issue to know that tax relief helps Nebraskans thrive and our businesses prosper," said Gov. Heineman. "In rural Nebraska, record high property taxes are hurting our farmers and ranchers. That's why I support the Nebraska Farm Bureau proposal to lower ag land valuations from 75 percent to 65 percent. Additionally, I support business community efforts to reduce income taxes. These ideas would put money directly back into the pockets of the Nebraskans who earned it and who deserve to keep it."
The State's cash reserve fund is at a record high of $722 million. A cash reserve transfer of $220 million for tax relief over the next three fiscal years, leaves $500 million in the cash reserve fund. A $500 million cash reserve fund is more than sufficient for an annual budget of approximately $4 billion.
Additionally, tax relief can be realized through continuing to hold the line on state spending. The Legislature's current spending estimate is a 4.7 percent increase for the next biennium budget, which results in $370 million being available for tax relief over the next three years. For Fiscal Years 2016 and 2017, a spending growth of four percent, results in nearly $500 million being available for tax relief over the next three years.
Gov. Heineman noted an annual state spending increase of four percent is realistic and reasonable. The average annual spending increase in state general funds for the last fourteen years, Fiscal Year 2000 through 2013, is 3.55 percent.
During the press conference, lawmakers started responding via twitter. Senator Heath Mello says he's disappointed to hear governor Heineman propose "Kansas–style" fiscal policy to use one–time cash reserve funds for tax cuts to the wealthiest. Senator Norquist echoed: why would we want to put our strong fiscal position in jeopardy? Heineman responded by saying there's no real plan yet, he just wants everyone to know it's possible. "We're trying to work with the revenue committee. There is no defined plan. What I'm trying to do tonight is show, there is up to 500 million dollars available," says Heineman.
You can follow Senator Mello's comments on twitter here.
You can follow Senator Norquist's comments on twitter here.