Gov. Ricketts gives first State of the State address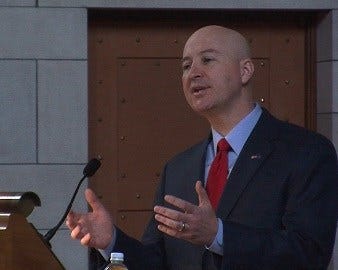 Posted by: Camila Orti
In his first State of the State address, Gov. Pete Ricketts puts his budgeting priorities on controlled spending and tax relief.
Ricketts presented his two-year budget plan to the Unicameral Thursday morning.
"It comes as no surprise that I believe the State of State of Nebraska to be strong," he said.
But that doesn't mean there's no room for improvement. The governor's main areas of focus are economic development, education, reducing government regulation and the big one- lowering taxes.
"There is one consistent message that I have heard in every corner of the state, property taxes are too high," Ricketts said.
In his biennium budget, Ricketts plans on adding $60 million per year to the Property Tax Credit Relief Fund, which would increase total property tax relief to $200 million annually. In his address, the governor said lower taxes will make Nebraska more competitive and help the state grow.
"We need to attract new individuals and families to Nebraska," Ricketts said.
In addition, the budget slows down the state's spending growth to 3.1 percent, something Ricketts says will help with long-term tax relief.
When it comes to government regulation, the governor's opinion was very clear.
"Washington just doesn't get it," Ricketts said.
The governor says he'll urge Congress and Pres. Obama to approve the Keystone XL Pipeline to create revenue and jobs.
Other things Ricketts touched on include setting aside money to create additional educational programs, and working closely with the Dept. of Corrections. The budget calls for an additional $45 million to the DOC, which Ricketts says has plenty of reform coming its way along with newly appointed director Scott Frakes. Frakes begins on February 2.