Governor calls health care reform a huge fiscal burden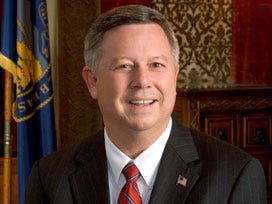 Gov.. Dave Heineman today announced the results of a fiscal analysis of the new federal health care law that predicts the cost to the State of Nebraska will be between $526 million and $766 million over the next 10 years in new state funding for Medicaid programs.
"The results of this analysis are staggering," Gov. Heineman said. "This unfunded and unparalleled expansion of Medicaid is an unfair and unsustainable mandate on Nebraska and other states. This analysis confirms that the federal health care law is an extraordinarily large and excessive unfunded mandate for states. It is potentially devastating to our state budget."
Conducted by an independent third party, the analysis includes fiscal year 2011 through 2020. It estimates Nebraska's new obligation for funding new and expanded Medicaid programs resulting from the federal health care law will range from $526.3 million to $765.9 million.
The lower estimate assumes that the federal health care law's expanded Medicaid programs will increase Medicaid enrollment, but does not assume full participation. The nearly $766 million estimate assumes full participation in new and expanded programs, which would add more than 145,000 Nebraskans to the Medicaid program over the next decade.
Currently an estimated 11.6 percent of Nebraska residents are enrolled in Medicaid, or approximately one in nine residents. The new provisions of the federal health care law will expand eligibility to 17.7 to 19.8 percent of residents, or approximately one in every five Nebraskans.
The independent analysis was conducted by Milliman, Inc. Among the world's largest independent actuarial and consulting firms, Milliman has experience consulting with 24 states regarding their Medicaid programs.