Governor Heineman Tours Flood Damage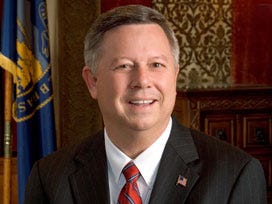 Governor Dave Heniman has declared a statewide state of emergency after torrential rain and overflowing rivers wreaked havoc and heartache this weekend.
Governor Heineman and national guard officials took the aerial tour of north central Nebraska.
The Governor says the damage is much more extensive than what he expected.
"I have lived in Fremont for 25 years I have never seen that kind of flooding damage in that area. We saw roads clearly underwater, farmstead surrounded by water and into the northern part of schuyler homes are clearly underwater," Heineman said.
The governor says he's monitoring the situation around the clock and working with agencies across the state, including local emergency managers the department of roads and the state patrol.
Al Berndt, Assistant Director of the Nebraska Emergency Management Agency says they are counting on local teams for direction.
"we are counting on the local emergency management directors in effected counties to tell us first have they been checking on citizens and second do they know where stranded citizens and can they reach them or do they need state assistance," Berndt said.
Monday morning NEMA's emergency operation center will be helping local emergency managers and the Nebraska National Guard will also send out at least 10 members to affected areas.