Governor highlights Alzheimer's, caregivers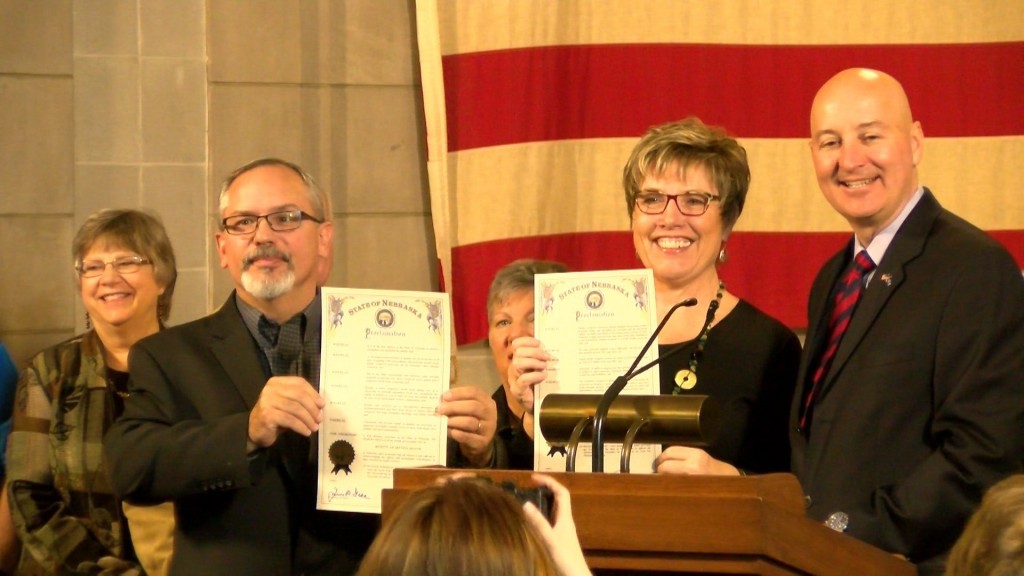 On Monday, Gov. Pete Ricketts proclaimed November National Alzheimer's Awareness and National Family Caregiver's Awareness Month.
"Thank you very much for all that you do," Ricketts told caregivers. "God bless you in your work. And God bless the great state of Nebraska."

Caregivers received recognition for their work looking after loved ones who otherwise couldn't care for themselves.
It is estimated Nebraska caregivers provide more than $2 billion worth of unpaid care.

"It is an ongoing, challenging responsibility," said DHHS Program Coordinator Sharon Johnson. "Many of our family caregivers, whether veterans who are providing care, whether they are a mother or a dad who is actively in the work force, or an elderly spouse caring for their loved one—doing whatever is required to stay out of institutional care."

Around 33,000 Nebraskans are living with Alzheimer's disease. That's expected to increase to 35,000 by the year 2020.
There is no cure for the disease, which inhibits memory and other mental functions.
The Governor's proclamation announces Dementia Friendly Nebraska, which aims to provide education and training for dementia caregivers and health professionals.

"The importance of proclaiming this month as Alzheimer's Disease Awareness Month is to actually inform the public about our relatively new announcement that there is an entire task force of people that have come together to share resources with one another through Dementia Friendly Nebraska," said Elizabeth Chentland of the Nebraska Alzheimer's Association.
They hope that will increase dementia and Alzheimer's diagnoses in the early stages, so more patients can be involved in medical decision making before it's too late.