Governor opposes sales tax increase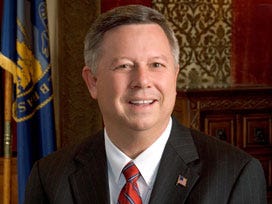 Gov. Dave Heineman says he opposes a legislative proposal that would let cities raise their sales tax rates as high as 2 percent if they receive voter approval.
Heineman told reporters Wednesday that lawmakers who voted to advance the measure are enabling a possible tax increase that would hurt middle- and low-income families. The governor repeated his argument that cities ought to cut spending to balance their budgets. The sales tax measure (LB357) won first-round legislative approval on Tuesday, 27-14.
Overriding a veto would require at least 30 of the 49 senators in the one-house Legislature. The bill would let cities use the money for local projects or property tax reductions, if approved. Heineman said citizens should instead have the chance for an up-or-down vote on lowering property taxes.