Graffiti vandal hits downtown businesses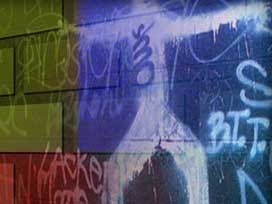 By: Ashley Harding
aharding@klkntv.com
Several downtown businesses are tagged by graffiti vandals!! The reports keep coming in, 25 cases of vandalism in just 2 weeks. Alleys behind downtown businesses are being hit the hardest. And it's all the same design.
In all cases, the vandals spray-painted the letters "f-c-c". As for finding the significance of those letters, police say they're stumped. Wall to wall, alley to alley, it appears someone in Lincoln has a fascination with the letters 'f-c-c'. According to Lincoln Police, they're taking their hobby to the alleys behind some of downtown's most popular spots. It was just last week when Regina Peterson found out the bar she works at had been hit.
"To tag businesses, I mean, if you get their-the owner's permission, at least make it beautiful," Peterson said.
In total, police say the 'f-c-c' vandals have hit at least 25 times within the last couple of weeks. In all cases, they targeted businesses right in the heart of downtown, from 13th to Centennial Mall and through "O" street. Dumpster's, circuit breakers, walls, nothing seems to be off limits.
"Some of this paint needs to be power-washed off. It's also just, the disrespect. It's something we take seriously because there are so many incidents," Officer Katie Flood said.
In most of these incidents, the tagger spray-painted only the letters 'f-c-c'. But in a couple of cases, he got a little more creative. It looks like he wrote the word 'frau'. But in his true form, he ended with 'f-c-c'." Police say it could cost more than three thousand dollars to clean it all up. Some hope it'll just go away and never come back.
"If you believe in something so much, I think you should express it in a different way, instead of vandalizing businesses, vehicles, anything that isn't yours," Peterson said.
Several shops were also hit. As well as parking garages and even a church van. Police do not think this is gang related. At this time, there are no suspects.