Grass fire near Kawasaki plant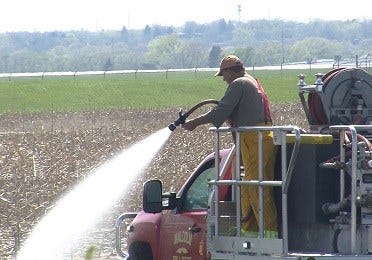 Posted By: Jenn Hatcher
jhatcher@klkntv.com
Lincoln Fire and Rescue had to call in backup for a grass fire, Monday afternoon.
"It was maybe 3–4 foot flames for a little bit," explained Captain Craig Clark, Lincoln Fire and Rescue.
A cornfield between the Kawasaki plant and the Lincoln airport was charred.
Officials say the call came in about 3 o'clock and everything was under control in about 45 minutes.
More than 10 acres was burned.
Malcolm Fire and the Nebraska Air Guard Fire joined LFR to fight the blaze.
Clark said, "They have trucks that are able to get out and do more cross country and into the stable they help out quite a bit, they can get to the fire better than we can."
The cause is unknown.
No one was injured and there was no structural damage.
The airport authority will watch the field the rest of the day, in case it reignites.
Lincoln fire and rescue says the recent rain has helped cutback on these grass fires.